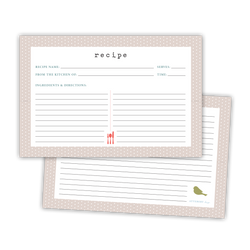 Attebery Design
Polka Dot Recipe Cards (Blush)
Enjoy these FREE downloadable Polka Dot Recipe Cards in light blush to brighten up your recipe box.
• 6" x 4"
• Double-sided
• Available as Acrobat PDF
• Once product is added to cart and you finish the checkout process, your download link will become available as well as emailed.
• All rights reserved. Available for personal and non-commercial use only.